March 18th, 2021
Table of contents
AWS Technical Professional - Module 5 : Looking Ahead
The migration process
Assessment

Identify readiness
Identify potential business outcome

Readiness and Planning

Analyze environment
Determine migration strategies
Create a well-architected landing zone

Migration

Design, migrate, and validated each application
Automatic or manual
Migrate data

Operations and Optimizations

Operate
Manage
Optimize
Improve operating model
Minimum Viable Product (MVP)
A minimum valuable product is a functional product (or solution) with just enough features to satisfy customer's requirements at initial adoption, but leaves room for feedback for future product/solution development.
Avoid building a solution this way where you only discover if there is success at the end.
Instead, start with something basic and gather feedback as you get more complex.
Migration strategies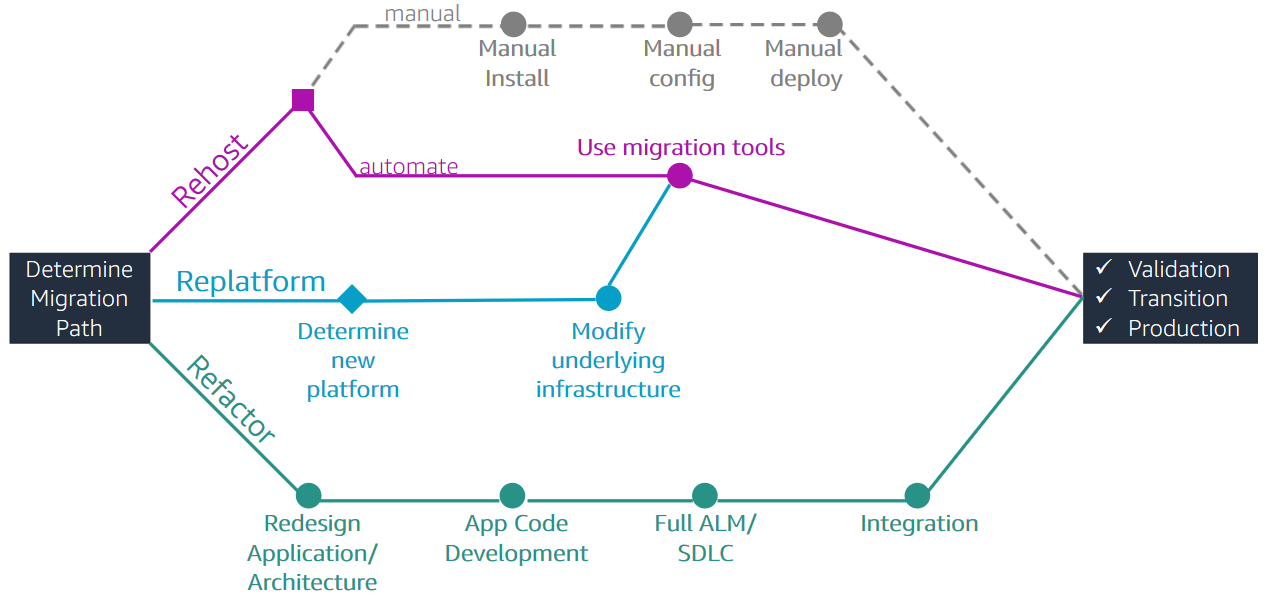 AWS Trusted Advisor best practice checklist
More information about Trusted Advisor best practice checklist : here
Modernize to drive growth
Retire expensive legacy solutions
Reduce TCO, improve cost optimization
Gain agility through automation
Free up resources to drive innovation
Serverless
Benefits

No provisioning, maintaining and administering servers
AWS handles fault tolerance and availability
Focus on product innovation
More information about Serverless : here
Containers
Package code, configurations, and dependencies into a single object
Share an operating system
Run a resource-isolated process
AWS offers resources and orchestration services
Use cases
Microservices
Batch processing
Machine learning
Hybrid applications
Application migration to the cloud
Platform as a service
More information about Containers : here
---
---